Paris: Through a Fashion Eye
by Megan Hess
(Black and White Edition): The Ultimate Guide to Timeless Style
About the Book
From Megan Hess, one of the world's leading fashion authors, editors, and illustrators. She has worked with most of the major fashion houses, and has done personal consulting for famous women like Michelle Obama, Gwyneth Paltrow, and more.
Paris Through A Fashion Eye is an illustrated guide to one of the world's most-loved fashion cities by one of the world's most-successful fashion illustrators. In the second of her series of books on classic fashion destinations, Megan Hess takes you on a super stylish adventure through the French capital, showing you the best places for a fashionista to eat, sleep, shop and play—all illustrated in her inimitable, elegant style.
Megan's tour reveals where fashion icons such as Coco Chanel, Karl Lagerfield, Chistian Dior and Louis-François Cartier worked and played, the top restaurants, hotels, boutiques and sites to visit, as well as Megan's own personal favorite places to shop. This is a must-have insider's guide to Paris for any fashion lover or Francophile.
About the Author
Megan Hess is an international fashion illustrator who collaborates with some of the most prestigious brands around the world, like Chanel, Dior, Cartier, Montblanc, and Tiffany & Co. She is the official illustrator for Bloomingdales. She has previously published four books and a range of stationary. She finished the cover artwork for all of Sex and the City author Candace Bushnell's books. She recently completed a private commission for Michelle Obama. She also accomplished a collaboration with Gwyneth Paltrow for the Blo Blow Dry Bar campaign. This is Megan's third book following Fashion House and her latest stunning collection The Dress. Another of her titles is Claris: The Chicest Mouse in Paris (see partial list at right; see also The Dress, linked).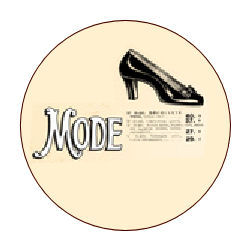 Megan Hess' Other Published Books Include: