Paris: Through a Fashion Eye
by Megan Hess
The Dress: 100 Iconic Moments in Fashion
About the Book
From Megan Hess, one of the world's leading fashion authors, editors, and illustrators. She has worked with most of the major fashion houses, and has done personal consulting for famous women like Michelle Obama, Gwyneth Paltrow, and more.
This collection of dresses from the inimitable Megan Hess celebrates fashion's finest moments and takes the reader on a decadent romp through fashion history… from the haute to the hot. From the elegant, such as Audrey Hepburn's simple black shift or Princess Di's never-ending wedding gown, to the quirky, such as Bjork's Swan Dress or the Liz Hurley safety-pin dress, to the simply unforgettable - such as Marilyn's famous moment in white in The Seven Year Itch or Madonna's perilous-looking conical bustierre.
Megan Hess has spent her career exploring and illustrating fashion. And while fashion is an ever-changing, ever-inspiring beast, there are certain dresses that capture a moment in history, the spirit of a generation and the indefinable energy of a fashion icon. In this book, Hess has collected the most iconic dresses throughout fashion history, and explores why they continue to resonate with audiences and viewers in decades to come.
Interspersed with historical anecdotes, famous quotes and scene-setting landscape illustrations which enlighten the reader of the social themes surrounding the fashion moment in question, this book is an elegant and immersive introduction to the moments that shaped fashion - and how fashion, in turn, shaped our lives.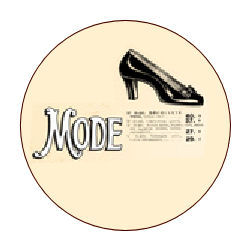 Other Books By Megan Hess. Please see the page for Megan Hess' Paris: Through a Fashion Eye which lists more of her titles.