Airport Novel
The World is Round: Memories of Love and War 1942-1992
by John T. Cullen
About the Novel
In 1950, a hungry, frightened little girl of four stands on a desolate beach in remote, icy Siberia, looking east across the vast, icy Pacific Ocean. Holding her tiny hand is her young European mother, who tells her stories about her handsome but vanished young father (U.S. Naval Intelligence officer Tim Nordhall) and a wondrous land called America. Her mother dies tragically, leaving the child alone in the world, except for her Russian caretaker, a kind but rough woman running a tavern in Anadyr.
With luck, she is adoptedóby a visiting, titled French couple. They take her to Paris, name her Marianne, and raise her as their only child in a chateau amid wealth, privilege, and opportunities. She grows up to marry and have children, while living a rather giddy, dissipated life. Her children grow up successful. Marianne, Countess Didier as she is now styled, harbors dark, turbulent memories of love and war that leave her no peace. When her dashing playboy husband dies in a race car wreck, Marianneís reality is jolted into new urgency.
Now early 40s, she begins a global search for answers to the mystery of who she is, who her father was, and who her mother had been. She visits places and meets persons that crossed paths with Tim Nordhall We learn that she and her mother were kidnapped by Soviet agents and taken to Siberia as hostages. Stalinís police hoped to lure Tim Nordhall to find his wife and daughter so they could exact a cruel revenge for the fact that Tim had foiled a plot by Stalin to steal an atomic bomb off a San Francisco dock in 1945óone of the weapons destined for Tinian, to be dropped on Japan.
Tim Nordhallís danger-filled, heroic career as a young Naval Intelligence officer begins in 1942 aboard a British destroyer that is torpedoed off the South Atlantic coast near Africa. The only survivor, he washes onto a beach amid hungry lions, is rescued by Mauritanian slavers, and sold to a wealthy man in Timbuktou, Mali. He escapes with a pair of renegade Luftwaffe deserters, who fly him in a stolen JU-52 to the Belgian Congo, where he is recruited to become one the first U.S. atomic counterspies.
His adventures as a spy take him to wartime London during the Blitz, then to San Francisco where he will foil Stalinís plan. He spars with a Soviet master spy code-named Jaguar, who many decades later helps Marianne in her quest to find her fatheróthe man Jaguar had been assigned by Stalin to murder.
Framed by Marianneís search, the interior story is about Tim and his adventures in war and love. The final phases take place in rainy, mysterious, jazzy San Francisco during the last months of World War II. While pursuing his secret atomic mission, he gets himself romantically coupled with some intriguing, attractive women. One is a dashing U.S. WASP (Womenís Airforce Service Pilots) flier named Corie. Her roommate, a sultry Turkish Jewish agent named Meg, works at the newly founded UN to help bring new lives to Hitlerís holocaust victims in a future free nation called Israel.
And there is a Polish army nurse Tim had courted in London, who now reappears mysteriously in San Francisco, working as a U.S. Navy nurse, and strangely interested in all things atomic.
In 1991, as the Soviet Union collapses, it's as if a sea were receding, and a tide going out that exposes the secrets of a lost century. Marianne's search frames our story, which closely follows Tim Nordhall's wartime adventures as a spy, and his women.
The novelís title (The World is Round) captures a key motif: that the trembling little child looking eastward across that icy night-sea from a Siberian beach in 1950 might one day somehow lock gazes with her future self, who is a successful but driven woman standing on a San Francisco beach in the 1990s, looking west across that same endlessly rolling dark ocean, as if to lock eyes with herself as a tiny child long ago. In a special way for Marianne, the world is indeed round, filled with memories of love and war spanning fifty years, since before her birth.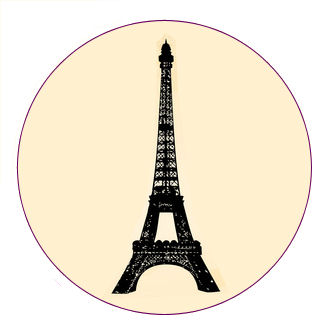 Read Free at Galley City (Fiction). You can now read the entire text free at my Galley City website, with the option to buy if you wish. For the price of a cup of coffee, you can buy the e-book (no obligation). The coffee is gone in minutes, but the e-book (or p-book) is yours forever, and the author appreciates your kindness. Thank you!
Browse or Buy at Amazon

The book linked at left is an e-book edition to browse; or buy & download from Amazon for your Kindle reader.
The middle link is for the corresponding print edition. Most of these are standard 6x9"; a few have added trim sizes available (5x8"). More info at Amazon.com.
Most print editions are also available at Barnes & Noble online; or call/visit your local bookstore to order.
About the Author
John T. Cullen (Jean-Thomas Cullen) has authored nearly fifty books (fiction and nonfiction in a variety of genres and subjects. He is the creator of this website (Books About Paris, Paris Bookshop). He has been an Internet and e-book publishing pioneer, online since 1996 with Clocktower Books and other ventures. More info at the webplex (his network of linked websites) anchored by his personal website John T. Cullen. His birth name is Jean-Thomas Cullen, reflecting his multiple citizenships (U.S., Luxembourg, and European Union). He speaks several languages, has lived and worked in several countries in North America and Europe, and holds three college degrees (B.A. in English, University of Connecticut; B.B.A. in Computer Information Systems and Accounting, National University, San Diego; M.S. in Business Administration, Boston University). He is a U.S. Army veteran, stationed six years in West Germany after the Vietnam Era. He is a progressive thinker, believes in the Golden Rule, and urges you to love all life on this endangered planet (the only home we'll ever have in our lifetimes).
Why The Title Airport Novel?
The Author Explains: The term 'airport novel' conjures a wonderful read like no other. The expression comes from those huge doorstop books available in airport, train station, and bus depot bookshops. They can be hundreds of pages of fluff, or (like this book) can invoke strong characters struggling with their destinies across the vast canvas of well-researched history and geography. I tried various titles over the years, none of which resonated, until my son mentioned that he had read an airport novel while on a long journey. My novel is, in itself, the tale of a great journey through space (the globe) and time (fifty years, including World War Two and the Cold War).
Models. I would compare my goals and styling here with those of at least three major journey works: (1) Doctor Zhivago by Boris Pasternak; (2) The USA Trilogy by John Dos Passos; and (3) Winds of War by Herman Wouk. Others come to mind but those will sufficiently convey a sense of scope and panorama.
Take It On Your Journey. Readers of my work tend to always tell me two things. One, they can see it as a movie while they are reading; and (2) they couldn't stop reading until the very end. Enjoy it, please, and try some of my others listed at Café Okay, my virtual coffeeshop and bookstore.