Paris Rue des Martyrs
by Adria J. Cimino
Paris, Rue des Martyrs by Adria J. Cimino
About the Book
An Amazon best-selling novel of life, love and family.
Four strangers, four stories, one riveting novel.
When four strangers cross paths in the ethereal streets of Paris, their lives change forever in this "riveting, what-happens-next read" (Lisa Barr, award-winning author of Fugitive Colors).
Rafael's search for his birth mother leads him to intriguing family secrets and a new chance at love.
Cecile is thrust from her humdrum life as a housewife with the spark of a passionate liaison.
Has-been actor André, troubled by an encounter with the son he abandoned years ago, now has a choice: lose his son forever or put aside pride and seek redemption.
Mira travels to Paris to begin a new life and forget about love, or so she intends.
About the Author
Adria J. Cimino is the author of the Amazon best-selling novel Paris, Rue des Martyrs, as well as A Perfumer's Secret, Close to Destiny, and The Creepshow. She also co-founded boutique publishing house Velvet Morning Press. Prior to jumping into the publishing world full time, she spent more than a decade as a journalist at news organizations including The Associated Press and Bloomberg News.
Adria posts information about her real-life adventures at AdriaJCimino.com and on Twitter@Adria_in_Paris. She lives in Paris with her husband Didier, daughter Phèdre, and son Orphée. When she isnít writing, you can find Adria at her neighborhood café watching the world go by.
Reviews
"Delve into Cimino's characters, travel her street, and you will find yourself on a path of discovery. It's a riveting, what-happens-next read."—Lisa Barr, author of award-winning novel Fugitive Colors
"An excellent first novel… a good well-paced story that fitted different storylines together very well."—David Whitehouse, author of In Search of Rwanda's Génocidaires: French Justice and the Lost Decades
"The characters are so richly drawn that they come to life before you on the page, their paths winding and meandering around one another on the fateful, sometimes dark, sometimes glorious Rue des Martyrs."—Kristy Woodson Harvey, author of Dear Carolina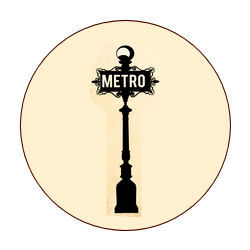 Q & A with the Author
What was your inspiration to write Paris, Rue des Martyrs? City life inspired me. The idea that every day, we might pass the same people as we walk down the street, yet what do we know about their lives? What would happen if our paths crossed? One of my favorite genres is literary fiction, so I decided to write a novel in that vein about life-changing encounters, liaisons and entwined paths.
What kind of story is Paris, Rue des Martyrs? I hope it will be an emotional read. Paris, Rue des Martyrs is about the importance of encounters. It is a story of family, friendship and coming of age. It is about love and loss, and healing wounds of the past. And it is a Paris love story, of course. It's not your classic Paris romance, but rather a different take of the types of relationships one encounters in this fabulous city: a French affair with a twist.
So many books have been written with Paris as the setting. What sets yours apart? any books are about the Paris of berets and baguettes. Paris, Rue des Martyrs is about the reality of Paris life… living in a Montmartre neighborhood, sitting at a café, being Parisian by adoption in this melting pot of a city.
If you like stories of encounters, family secrets and relationships, I think you'll enjoy Paris, Rue des Martyrs. Thanks for reading!